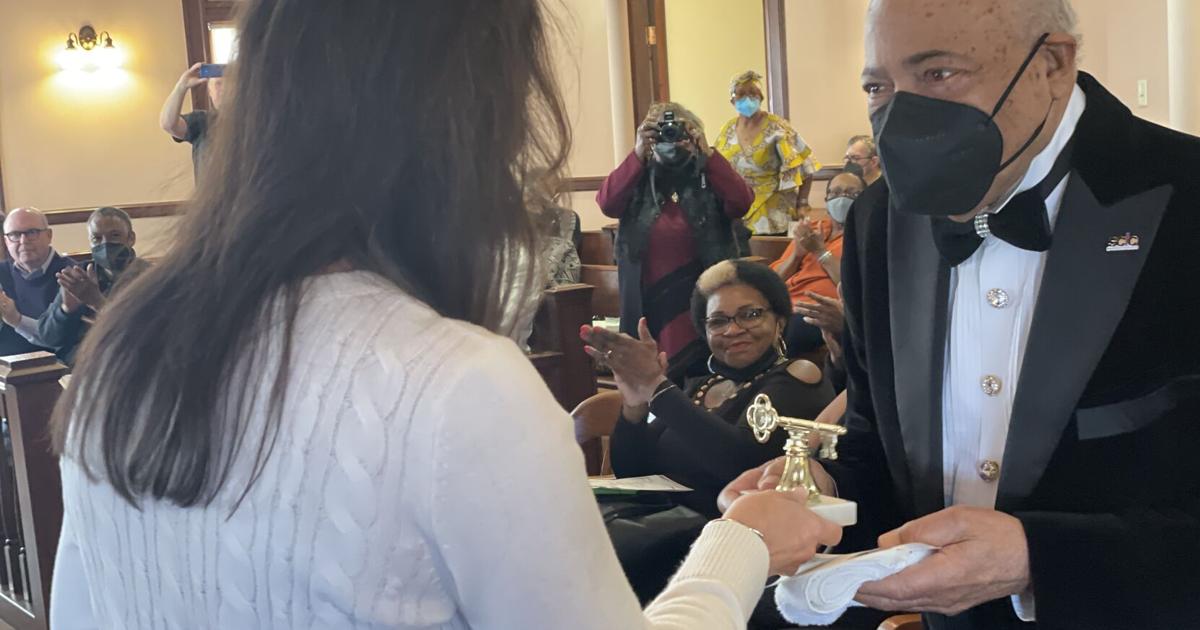 'Tower. Dr ET Caviness Day 'proclaimed as civil rights activist, Marshall native, returns home | News
County and city officials welcomed Marshall's native son, Cleveland, Ohio-based civil rights leader and pastor, Rev. Dr. Emmitt Theophilus Caviness, on Wednesday as the 93-year-old returned to celebrate an exhibition special presented in his honor at the Harrison County Historical Museum.
Delivering his remarks, Caviness thanked everyone from the bottom of his heart.
"Being honored in your hometown makes all the difference in the world," Caviness said. "Marshall, Texas for me is where I first saw the light. I loved that city. It was the epiphany of the pursuit of education; it was the epiphany generosity and kindness. So I'm just ecstatic and thrilled to be back here today. For you to take time out of your busy schedule to tell me something worthwhile, I'm honored.
In honor of his legacy, District 5 City Commissioner Vernia Calhoun read a proclamation, on behalf of the city, proclaiming Thursday, February 9, 2022 as Reverend Dr. ET Caviness Day in the City of Marshall.
"I'm a happy hyena and a proud peacock to have a 93-year-old Marshallite who wants to go back to Marshall where it all started," Calhoun said.
"I, along with the entire community and City Council, want to thank you for your service and honor you as a Marshall civil rights leader," Calhoun told Caviness as he presented the honoree with a framed portrait of the proclamation. .
Presenting him with a key to the city, Stacia Runnels, executive director of the Grand Marshall Chamber of Commerce, shared how touched she was by Caviness' journey.
"Obviously, I'm in the presence of greatness, and I'm moved and touched by your life," Runnels told the honoree.
Pointing to the inscription which read "the key to a thriving community," Runnels said the chamber presented the key to thank Caviness for his legacy, ministry and advocacy.
"We pray that this legacy will continue in the years to come and that those who follow you will be part of this thriving community," Runnels said.
Caviness, a 1945 graduate of Pemberton High School and Bishop College, made an impact nationally, fighting alongside civil rights leader Martin Luther King Jr. for equality. He has shared the stage with several US Presidents, including Jimmy Carter, George Bush and Barack Obama, and has also been recognized for his generous philanthropic efforts.
"Our museum often honors those who began their life's journey here in Harrison County and went on to pursue successful careers elsewhere, as they do today," said Wendy Newman, member of the museum board.
Caviness was joined on Wednesday by several members of his congregation and was surprised by a room full of local family members – who had always heard of his heritage but had never met him personally.
Ron Kisner, a deacon at Greater Abyssinia Baptist Church in Cleveland where Caviness is pastoring, noted how honored they were to be able to come to Marshall, where Caviness' profound journey began.
"I never thought in my wildest dreams that I would be standing here before all of you in Marshall, Texas, a town we've been hearing about in our church for years, but it was only hearing about . Now to actually be in town and walk the road that Dr Caviness traveled, to get to the cemetery where his parents are buried…" is a blessing, Kisner said. "What you see here tonight is one of the men the most humble."
Kisner thanked museum director Becky Palmer and her staff for helping to orchestrate the exhibit to honor the legacy of the pastor and civil rights leader. Having recently celebrated Caviness' 60th pastoral anniversary at Cleveland's Greater Abyssinia Baptist Church, Kisner said his hometown exhibit was the icing on the cake. He thanked all those who played a role in the realization of the exhibition.
"I'm telling you, for me, this is a joyful time for me and certainly for all of us here," Kisner said. "In fact, I would say it's the kind of joy that is beyond comprehension. I thank God for this moment. We have people who have driven, flown…to get here to Marshall, Texas.
The Reverend Wayne Taylor, pastor of Marshall's Galilee Baptist Church, where Caviness delivered his first sermon at age 17, took part in Wednesday's program. As he gave thanks in his invocation, Taylor reflected on Caviness' influence.
"We are grateful to him, because he has not only blessed his church. He blessed the community," Taylor said.
As she welcomed everyone, Marshall Mayor Amy Ware praised Caviness for the resounding impact he has had.
"To have such a well-lived life where people would travel from across the country to honor you, and to love and show their support, we could only hope for a lot," Ware said. "We welcome you and we celebrate you. Hope we see you again."
Other presentations were made by Raymond Fogg, Chairman of the Wiley College Faculty Assembly.
"I'm really happy to be here, and happy that the faculty of Wiley College has decided this Black History Month to honor Reverend Caviness for all the work he has done," Fogg said.
Local relatives, including Bo Green, Jerry Green and Mary Adams, also showed their hospitality, on behalf of the family. Adams presented the winner with a family reunion T-shirt, celebrating the local Green and Caviness families.
Caviness was born in Marshall on May 23, 1928 to Will Spon and Lulu Page Caviness-Calvin. Kisner previously noted that, as the youngest of five brothers and a sister, Caviness overcame a life of poverty that found his family often struggling to find food and permanent housing.
The local exhibit features memorable photos from Caviness' trip, including a snapshot of him welcoming Dr. King to his church in Cleveland in 1963. Other photos of him are with King's wife, Coretta Scott King; National Action Network founder Al Sharpton; President Jimmy Carter; President George Bush; and a graduation portrait from Bishop College, to name a few.
The exhibit also highlights some of Caviness' awards, such as an award from the Southern Christian Leadership Conference honoring his lifelong membership, a 2019 MLK Community Award he received from the Cleveland Orchestra, and an award from the National Center for Civil and Human Rights museum in Atlanta, Georgia.
Additionally, the exhibit features Caviness's wife and children, as well as a family tree dating back to his Marshall roots. School records, researched by the county museum, are also featured. Caviness' six-year service on the Cleveland City Council is also noted.
His work has earned him many accolades, including 2012 induction into the International Civil Rights Walk of Fame, where his alligator shoeprint is engraved. Housed at the Martin Luther King Jr. National Historic Site in Atlanta, the museum honors activists for their role in the civil rights movement and other civil rights actions.
One of the highlights of his career was working with other civil rights leaders to elect the first African-American mayor of a major metropolitan city – Carl B. Stokes.
"It was huge, and it was a monumental achievement for people of color," Caviness said, noting that Stokes was mayor of Cleveland.
Caviness is also honored to have had major appointments during his career, including being appointed by Ohio Governor George Victor Voinovich to serve as chairman of the Ohio Civil Rights Commission, chairing matters of civil rights for the entire state.
Caviness is currently president of the Greater Cleveland Chapter of the Southern Christian Leadership Conference, founded by the Reverend Martin Luther King Jr.
According to the proclamation presented by the city of Marshall, Caviness fought for human and civil rights in the spirit of fellow civil rights leader King, who preached about using love instead of fear. violence.
"I carried this message of love, which is the greatest of all virtues," the minister said. "I will do my best to make sure I win you over, not through violence, but through love."
He said he always tried to manifest the spirit of helping others.
"If I can help someone, while I'm dead, my life won't be wasted," Caviness said. "That's what I live for, trying to help someone."
Her drive to make a difference in the world didn't start in Cleveland, but rather growing up in Marshall, her hometown, and noticing a rather disturbing picture hanging on the walls of Marshall's City Hall.
Caviness, a young boy at the time, said he noticed the image after being released from prison, where he and his brother were taken after being falsely accused of stealing firewood.
The cartoon on the wall depicted a world of segregation, with blacks and whites sitting across from a glass bar. The caption, which read "Never shall the Twains meet", lit a flame, inspiring Caviness to want to advocate for change.
"I came out of this rigid segregated society and the day I came out of there I saw a cartoon on the wall. There was a bar in the middle with white people on one side and black people on the other Caviness explained. "It had an indelible impact on my conscience; indelibly marked my whole life. So from that little cartoon, I went out into the world saying that I will do my best so that people will not be torn apart, but they will be reunited.