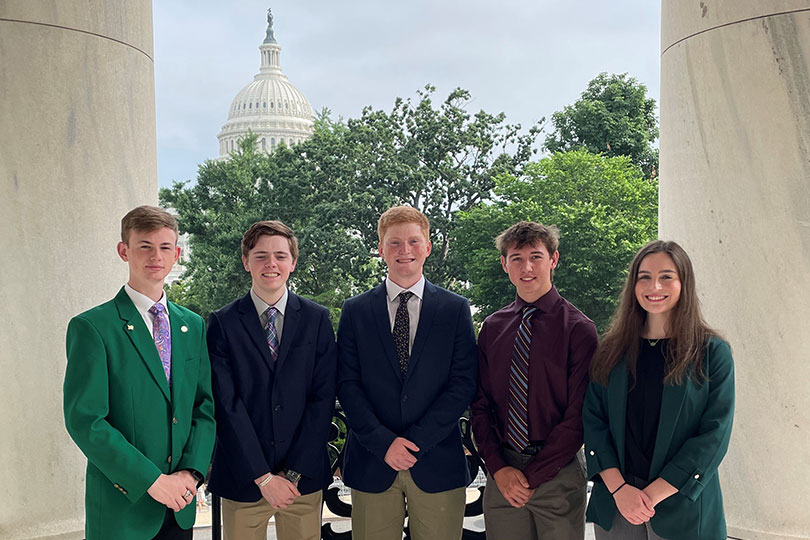 TFB's Free Enterprise Speech Finalists Visit Capitol Hill
By Julie Tomascik
Editor
Texas Farm Bureau (TFB) Free Enterprise Speech Contest finalists recently traveled to Capitol Hill to meet with elected officials and see historic sites in Washington, D.C.
The all-expenses-paid trip to Capitol Hill was part of the award the students received for being finalists in the state competition.
"It's important for young students to understand constitutional government and the free enterprise system," said McKenna Bush, TFB's youth outreach coordinator. "This trip to DC closes the competition loop for students and gives them the opportunity to meet congressional leaders."
Students on the trip included Benjamin Flanagan from Runnels County, Amanda Hoffmann from Bexar County, William Jones from Rusk County, Steven Perez from Starr County, and Carson Smith from Hall County.
The finalists were able to meet US representatives Henry Cuellar, August Pfluger, Louie Gohmert, Ronny Jackson and Pete Sessions. The students also met with the staff of U.S. Senator Ted Cruz and U.S. Senator John Cornyn.
The students toured DC, visiting national monuments, museums, and other DC area attractions.
They also met with congressional interns from Texas A&M University and Texas Tech University.
"These students are extremely bright and worked hard on their speeches," Bush said. "This trip is an opportunity to reward them for their hard work, to allow them to network with each other and learn this summer."
Each student took home a different lesson from the trip.
"I was able to meet with my rep, Rep. Pfluger, talk to him about agriculture and learn about the political process," said Flanagan, the contest winner. "It was informative to meet the staff of senators and representatives and learn from them and how they work. The main thing I took away from them was to always be open-minded in order to work together to make our country a better place.
It was Flanagan's first trip to DC, and it impressed him.
"It was great to meet our Representatives and Senators and hear their perspectives. We also sat down with the Texas A&M and Tech interns to learn about their experiences, what they're learning, and how we can apply that to our future college careers and potential internships," Flanagan said. "This trip has been an incredible opportunity."
The trip helped students understand basic advocacy and how one voice can help make a difference.
"It's important for young people like us to see how politics works and how things work in DC," said contest finalist Hoffmann. "Meeting with staff is essential, and calling our senators and representatives can have such an impact. Going forward, I will reach out to my congressional offices and voice my concerns about farm legislation and the things I'm passionate about.
The trip was also about networking opportunities and learning about American history.
"Seeing how our congressional political system works, delving into our country's history through tour stops, and getting to know fellow students made this trip such an informative and fun trip," Hoffmann said.
The Free Enterprise Speech Contest is an annual competition open to any young TFB member who has participated in the organization's Engage program, part of the Student Success series.
As part of the competition, students are invited to share what they have learned about constitutional government and the free enterprise system.
The competition is an opportunity to earn money for the university, learn valuable communication skills and build leadership qualities. High school students take an in-depth look at the economy and country of the United States and communicate those thoughts and understanding in a speech.
For more information on youth opportunities available through Farm Bureau, visit texasfarmbureau.org/youth/youth-opportunities.