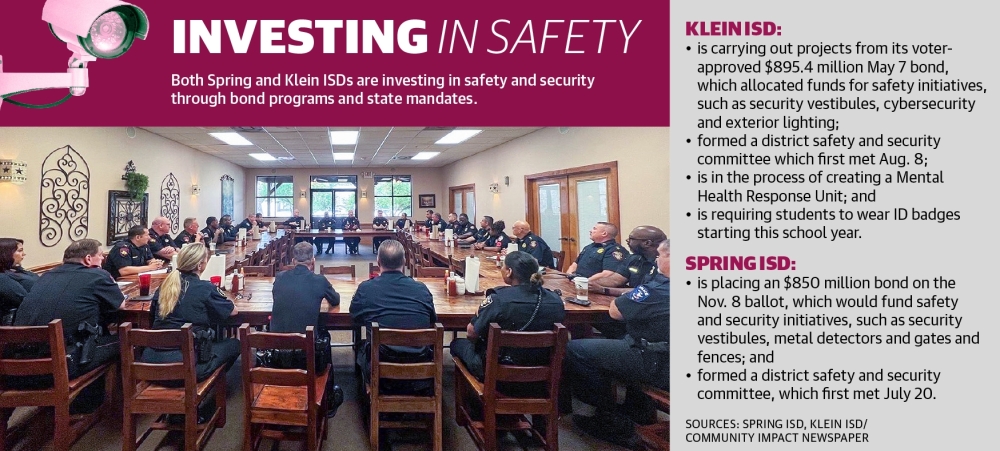 Spring, Klein executives target safety ahead of 2022-23 school year
State and local leaders step up security efforts as 2022-23 school year begins and next legislative session nears, three months after 19 students and two teachers died in mass shooting in a school in Uvalde.
Over the summer, state lawmakers allocated new funds to school districts across the state to support safe and mental health initiatives in schools, while ISDs Spring and Klein are organizing education packages. obligations to provide additional support to students and staff.
On June 13, KISD officials launched the first projects included in the district's $895.4 million bond program approved by voters on May 7, prioritizing numerous safety and security-related projects. Security. Meanwhile, the SISD board voted Aug. 9 to place a referendum on the $850 million bond on the Nov. 8 ballot. If approved, the SISD bond will also allocate funds for district-wide safety and security improvements.
Marlon Runnels, who became KISD's police chief after former chief David Kimberly retired on June 2, noted that the district has a police presence on every campus every day.
"There is an expectation at Klein ISD that security is everyone's responsibility," Runnels said. "Their chief of police is not only the chief of police; he is related to Klein ISD. And I take my role and responsibility in protecting my children and all parents of children in the district very seriously.
Since 1970, 177 shootings have occurred at K-12 schools in Texas, nearly 25% of them in the Greater Houston area. Data also shows that 38 of those incidents in Texas occurred between January 2020 and June 2022, the most of any previous decade.
"We have seen fairly steady growth since [the 1990s]said Mo Canady, executive director of the National Association of School Resource Officers. "School shootings drive demand [for school resource officers]; there is no doubt. I wish it weren't like that, but it is.
Statewide Response
A week after the May 24 shooting in Uvalde, Gov. Greg Abbott called for the formation of two special legislative committees to investigate school safety and mass violence.
"This is the fourth mass casualty event we've had in Texas since I've been in office," said state Rep. Dan Huberty, R-Houston, the former chairman of the public education committee. of the House, during an inventory on June 14. State address. "The reality is I look at this and say, 'We are guilty. I am guilty. We have to do something.
On June 28, state leaders allocated $100.58 million to school districts across the state, including $50 million for bulletproof shields and $17.1 million for the Texas Education Agency to help school districts purchase silent warning systems, among other school safety and mental health initiatives.
According to the heads of state, the funding comes from a budget surplus in the Core curriculum and therefore will not impact the school's current operations or funding.
"Funding for these much-needed initiatives marks the first of many steps we will take in the Legislative Assembly to respond to the horrific events in Uvalde and prevent another tragedy like this from happening again," the Speaker said. Texas House Dade Phelan in a June 28 statement. Release.
Additionally, on June 1, Abbott loaded the Texas School Safety Center ensuring that school districts across the state form safety and security committees, address security needs, train staff and substitute teachers in security procedures, plan school-wide security drills, school and review all building access procedures. School districts will be required to complete safety tasks and report their findings to the TSSC by September 1.
The center will then provide a statewide security report to Abbott and the Texas Legislature by October 9.
Local efforts
Locally, the Harris County Court of Commissioners voted unanimously on June 14 to request a report into county youth gun violence and create the Harris County School Safety Commission. The court later approved the appointment of five members to the commission on June 28, including a high school student, a teacher, a superintendent, a school board member and a parent who lost their child to the violence. army. The commission met for the first time on June 30.
At a press conference on August 3, Precinct Commissioner 3 Tom Ramsey said the commission's findings would be made available in a few weeks.
"The Safe Schools Commission was created for a reason: it's to listen, because when things like Uvalde happen, sometimes we try to come up with solutions without listening," Ramsey said. "These people walked into a room, [and] they left politics at the door.
Constable Mark Herman of Harris County Precinct 4 said efforts have been made by his office to increase the number of law enforcement officers available to districts throughout the precinct, which includes the Spring and Klein ISDs.
"My office will be dedicating hundreds of assistant officers to local districts for the remainder of the year," Herman said at an Aug. 8 news conference. "Looking at our operational plans that we have in place, we have our schools covered."
District-wide investment
The Spring and Klein ISDs both formed safety and security committees, which first met on July 20 and August 8, respectively. District officials said they are also working to complete state-mandated security tasks before the Sept. 1 reporting deadline.
Of total KISD May 7 bond package, $843.8 million has been allocated to Proposal A, a portion of which has been allocated to district-wide safety and security improvements: safety oversight improvements at each school; district-wide cybersecurity improvements; exterior lighting and parking replacements and upgrades; and the addition of security vestibules at Klein Oak High School and Doerre, Kleb and Klein Middle Schools.
"Fortunately, our community in May passed our bond, so in Proposal A there was a lot of money allocated for security improvements, and on the heels of Uvalde, the board in June voted to advance some of these bond projects on our intermediary. campuses to address some of the safety upgrades on those campuses to include hallways that may not already have them in place," Runnels said.
Starting this school year, Runnels also said that all KISD high school students are required to wear ID badges, while elementary students will be required to wear ID badges on their backpacks. Known as Smart Tags, Runnels said students will also use the ID badges to get on and off the school bus, pay for school meals and check books in the library.
The district is also creating its own Mental Health Response Unit, which Runnels says will combine peace officers and counselors to help triage crisis situations with students and employees. Runnels noted that the district is still in the early stages of building the unit and did not specify an estimated launch date.
If approved by the voters, Proposal A of SISD November 8 Bond will include $681 million for Proposal A, a portion of which will fund safety and security improvements throughout the district, such as the replacement of 19 police vehicles, shooter detection systems, security vestibules with bulletproof glass and improved metal detectors, among other projects.
SISD Police Chief Ken Culbreath noted that the district has always made safety a top priority and plans to continue to increase training and communications regarding standard response protocols.
"We have made a substantial commitment to increase training and improve physical systems and technical systems," Culbreath said.
Andrew Christman, Wesley Gardner, Emily Lincke and Hannah Norton contributed to this report.