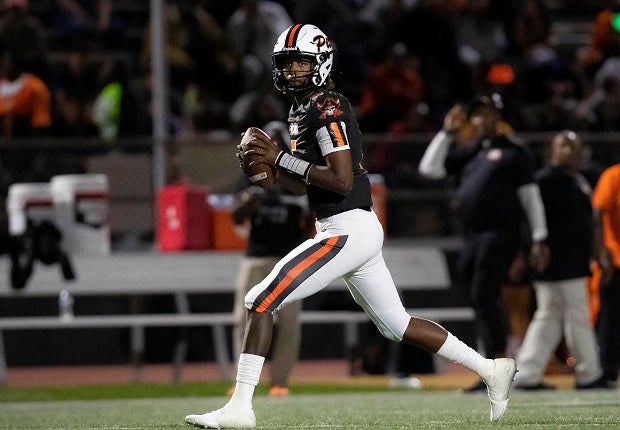 Northern California high school football rankings: Serra and Folsom remain atop NorCal Top 20 after dominating wins
The top four teams remained stable in these rankings, representing the Central Coast section, Sac-Joaquin and North Coast.
The NorCal showdown this week is No. 3 De La Salle visiting No. 6 St. Mary's of Stockton. The top two leagues are the Sierra Foothill League of the SJS and the West Catholic Athletic League of the Central Coast.
Ranking the 20 best high school footballers in Northern California
1. (Last week 1) Serra (San Mateo), 5-0
Last week: Defeated Archbishop Mitty, 35-7
This week: against Bellarmine
Serra is 2-0 in the West Catholic Athletic League after a rout of Bellarmine in the only home game of the season. Maealiuaki Smith passed for 209 yards and two touchdowns and Jaden Green went 85 yards for a score. The other victories are 17-12 over Folsom and 24-21 over De La Salle.
2. (2) Folsom, 5-1
Last week: Defeated Oak Ridge, 42-13
This week: at Whitney
The Bulldogs blanked their rivals in the second half after going 21-13 in a Sierra Foothill League opener, and Austin Mack hit Rico Flores Jr. for two touchdown bombs to break it. This is Folsom's 17th straight victory over Oak Ridge. Folsom beat Pittsburgh 23-15 and De La Salle 24-20 and lost 17-12 to Serra.
3. (3) De La Salle (Concorde), 3-2
Last week: Goodbye
This week: In Sainte Marie
The Spartans had a bye and are gearing up for another team keen to face them at St. Mary's, a program that has challenged DLS in non-league games before, a few thrillers, but has never defeated the Spartans. The DLS losses are 24-21 against Serra and 24-20 against Folsom.
4. (4) Pittsburgh, 4-1
Last week: Defeated McClymonds, 39-21
This week: against Liberty
The Pirates impressed by beating Mack as Khai Taylor grabbed two touchdowns, and Cameron Clanton had a touchdown run to seal it. Jaden Rashada had three touchdown passes for the Bay Valley Athletic League favorites. The loss was 23-15 to Folsom.
5. (6) Monterey Trail (Elk Grove, CA), 5-2
Last week: Defeated Burbank, 56-0
This week: against McClatchy
The Mustangs won their fifth straight game by holding the Titans to 11 total yards in the Metro League rout. Jervin Navarro had two touchdowns for Monterey Trail, which lost to Folsom and De La Salle.
6. (7) St. Mary's (Stockton), 6-0
Last week: Defeated Lodi, 35-14
This week: against De La Salle
A 14-14 game got the Rams all behind on offensive balance and defense for a booming program that's quite a contender in the Sac-Joaquin Division's Division I championship chase. The confrontation with De La Salle will be revealing.
7. (10) Del Oro (Loomis), 6-0
Last week: Defeated Granite Bay, 21-10
This week: against Rocklin
In a Sierra Foothill League rivalry showdown, the Golden Eagles led 21-10 at halftime and trailed quarterback Caden Pinnick and point guard Thomas Graham II, who had a punt return touchdown. 68 yards. Other big wins included a rally at Clayton Valley Charter and a rout of Menlo-Atherton.
8. (11) Clovis West (Fresno), 6-0
Last week: Defeated Buchanan, 29-22
This week: against Clovis East
The Central Section's top-ranked team earned a tough Tri-River Athletic Conference win over Buchanan as Ryan Markarian hit Marshel Sanders for a long touchdown with 40 seconds left, and Jayden Madal sealed it with an interception.
9. (5) Buchanan (Clovis), 5-1
Last week: Lost to Clovis West, 29-22
This week: against Central
The Bears impressed with a 99-yard drive, capped off by Michael Runnels running it from 24 yards, but Clovis West won it with a deep touchdown. The Tri-River Athletic Conference run will be good.
10. (12) Saltworks, 6-0
Last week: Defeated Santa Cruz, 55-7
This week: Goodbye
The Cowboys have rolled but still have challenges ahead against Aptos and Palma. This could be the No. 1 seed in Division I for the Central Coast section if the train keeps rolling.
11. (13) Manteca, 5-0
Last week: Defeated Kimball, 55-19
This week: against Sierra
Buffaloes Hudson Wyatt and Blake Nichelson led the charge as Manteca sets its sights on winning the Valley Oak League race that includes Central Catholic and Oakdale.
12. (14) Liberty (Bakersfield), 4-2
Last week: Defeated Garces Memorial, 13-0
This week: in Stockdale
The Patriots bounced back from their 27-0 loss to powerhouse San Diego Carlsbad with a satisfying effort in the Yosemite River League.
13. (8) Granite Bay, 5-1
Last week: Lost to Del Oro, 21-10
This week: against Oak Ridge
The Grizzlies were shut out in one half for the first time this season, shut out in the second half as the offense came to a halt. The next SFL showdown is against Oak Ridge, where the loser will suddenly be 0-2 in the league.
14. (9) Oak Ridge (El Dorado Hills), 5-1
Last week: Lost to Folsom, 42-13
This week: against Granite Bay
The Trojans played one game in the first half, trailing 21-13, then struggled to cash in the final two quarters as they fell for the 17th straight time to Folsom, dating back to 2006.
15. (16) Wilcox (Santa Clara), 5-0
Last week: Defeated Mountain View, 44-14
This week: in Milpita
The Chargers rolled behind quarterback Armand Johnson, who passed for 256 yards and three touchdowns, and Elijah Diallo Walker rushed for 144 yards and a score.
16. (15) McClymonds (Oakland), 3-1
Last week: Lost to Pittsburgh, 39-21
This week: against the valley of San Ramon
The Warriors were led by running back Jaivian Thomas with another big non-league NorCal game against 5-0 San Ramon Valley.
17. (17) Vanden (Fairfield), 6-0
Last week: Defeated Armijo-Fairfield, 42-6
This week: against Vacaville
The defending CIF State Division 3-AA champions won their 13th straight game as Tre Dimes fired three touchdown passes. Vanden now faces the team that last tied them down with a loss: Vacaville. It will be for the Monticello Empire League championship.

18. (19) Catholic Mariner (Kentfield), 6-0
Last week: Goodbye
This week: against Tamalpais
The Wildcats are class in the Marin County Athletic League.

19. (20) Saint Francis (Mountain View), 2-3
Last week: Defeated Saint-Ignace, 42-20
This week: vs Cathedral of the Sacred Heart
The Lancers were led by Keala Keanaaina's 232 yards and two touchdowns and Matthew Doughterty's three touchdown passes to roll their rivals. The Lancers won the WCAL last season.

20. (21) San Ramon Valley (Danville), 5-0
Last week: Defeated Foothill-Pleasanton, 31-7
Jhis week: against McClymonds
Wolves went and ran, and Luke Baker hit Trevor Scott for three touchdown passes to belt Foothill. Another test looms at McClymonds.
The next 10
21. Central Catholic (Modesto), 2-3
22. Rancho Cotate (Rohnert Park), 5-1
23. Cerrito, 5-0
24. Acalanes (Lafayette), 5-0
25. Rocklin, 5-1
26. Campolindo (Moraga), 5-0
27. San Joaquin Memorial (Fresno), 4-2
28. Downey (Modesto), 6-0
29. Sacred Heart Preparation (Atherton), 4-1
30. Center (Fresno), 4-2