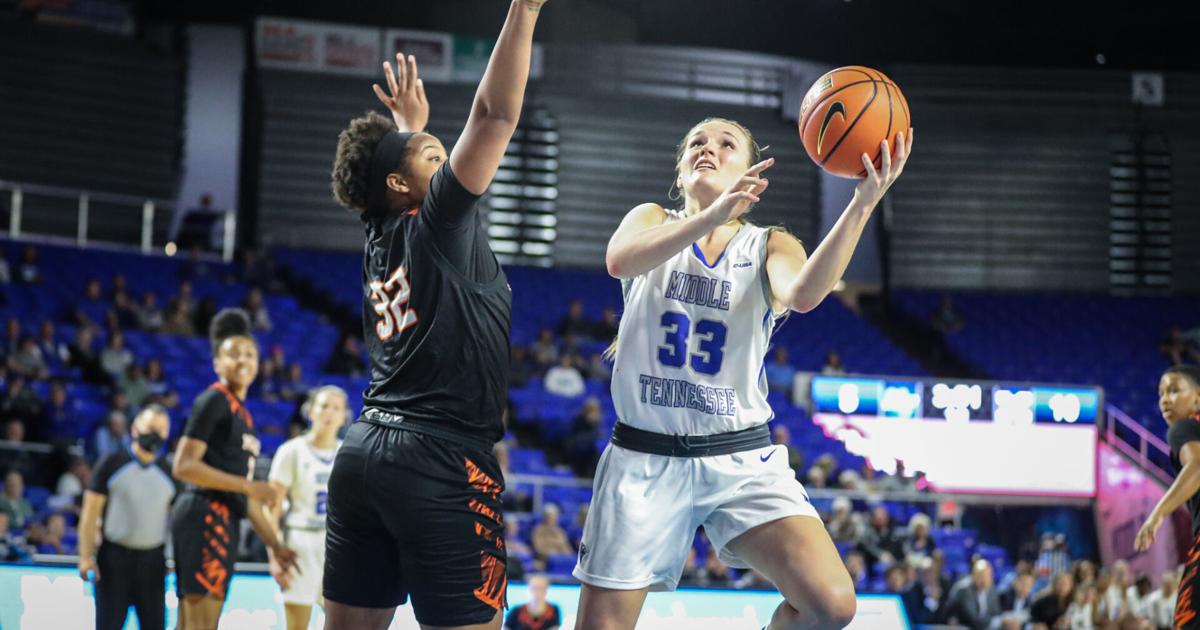 NET players make noise in female college hoops | Sports
They've gone from starring on local high school basketball courts to making an impact at the college level.
Courtney Whitson, Alasia Smith and Jaycie Jenkins are posting big numbers for their teams this season.
Courtney Whitson, Middle Tennessee State
Whitson, a Dobyns-Bennett alumnus, was named Times News / Johnson City Press Northeast Tennessee Player of the Year and NET Female Athlete of the Year for her senior season. All-time top scorer (2,456 points) and rebounder (1,476) in school history, she was named a McDonald's All-American in 2019.
Now a junior for Middle Tennessee State, the 6-foot Whitson lives up to the hype. She had her moments as a freshman averaging 6.9 points and 5.5 rebounds per game while playing for Tennessee Sports Hall of Fame coach Rick Insell.
In sophomore, she scored 10.6 points and led the team with an average of 7.7 rebounds per game. She was named to the Conference USA All Tournament squad after averaging 15.3 points per game and hitting 52.2% out of a 3-point range. She and her Lady Raiders teammates lost to Tennessee in the first round of the NCAA tournament.
Whitson ended the 2021 calendar year on a high note. Shooting 6 for 11 on a 3-point range, she scored a career-high 31 points to lead MTSU to an 85-56 victory over Texas-San Antonio on Thursday night.
Whitson leads the team with 13.7 points per game while averaging 6.5 rebounds while guiding the Lady Raiders to a 9-2 record early in the weekend.
His totals include an effort of 17 points and 10 rebounds in a 62-52 victory over Illinois at the Daytona Beach Invitational on November 27.
Alasia Smith, Gardner Webb
Smith, a Science Hill alumnus, was the 2020 Times News / Johnson City Press NET Player of the Year in his senior season.
The 5-10 forward was the Big South Conference Rookie of the Year after starting a 24-game team record averaging 11.3 points and 8.3 rebounds per game. She had three double-doubles, led the team with 15 blocks and placed second with 65 interceptions.
In his sophomore year, Smith increased his scoring average to 12.3 points per game while grabbing 6.3 rebounds per game. In 12 games, she had already tied the 15 blocks from last season. A quick defender, she is tied for the tag team with 30 interceptions.
Season highs include 21 points against Mercer and 19 rebounds against Austin Peay. She also tied last season's three double doubles, including a 17-point, 13-rebound performance in the Bulldogs' 64-50 victory over High Point on December 29.
Jaycie Jenkins, Milligan
Jenkins was the 2020 NET Female Athlete of the Year to Daniel Boone after playing on the volleyball and basketball courts and the softball field. Milligan Hall of Fame inductee Tonya Bailey Jenkins' daughter is making a name for herself with the Buffs.
Named freshman of the Appalachian Athletic Conference after averaging 17.5 points and 8.8 rebounds per game, Jaycie Jenkins ended her freshman season with career highs 34 points and 17 rebounds in the 93 loss. Milligan's -78 against CIU in the AAC tournament.
In the first half of the 2021-22 season, Jenkins leads the team with an average of 25 points and 10.2 rebounds per game. She has three games over 30 points this season, including a career-high 36 in an 82-54 win at Montreat on November 6.
Milligan's roster also includes several other local players, including one of Jenkins' high school teammates, Madi Runnels.
Former Unicoi County star Hailie Padgett, a 5-11 senior forward, is averaging 10.4 points and 6.5 rebounds per game for the Buffs. Lily Griffith, a 5-6 senior guard from Dobyns-Bennett, comes in with 7.9 points and 4.3 rebounds per game.
Shy Tuelle, Campbell
After an exceptional high school career at Hampton, where Tuelle finished with 1,750 points, 950 rebounds and 705 assists, she is excelling at the college level.
Tuelle, a senior 5-10 goalie, was an All-Big South Conference preseason pick. It was her final honor after being named to the Big South freshman, then averaging 8.9 points per game for the Camels in her sophomore. Last season's effort was highlighted by a game in which she scored seven 3-pointers in a win over USC Upstate and the team won the regular season conference title. .
She was All-Big South as a junior averaging 11.4 points, 5.3 rebounds and 1.6 steals per game. In the first nine games of her senior season, she is averaging 8.8 points per game with a high of 15 against Norfolk State.
Sullivan Central graduate Bre Yarber wears a red shirt for her first season for Campbell while recovering from a shoulder injury.
Kalee Johnson, Virginia-Wise
Kalee Johnson is Happy Valley's all-time leading scorer with 2,004 career points. Now a senior red shirt at Virginia-Wise, she is averaging 14.4 points and 6.9 rebounds for the Cavaliers.
The totals include 19 points and five steals against Tusculum and 16 points and 13 rebounds against Limestone. Johnson passed 1,000 points for his college career at the end of last season.
The other players in the area
Another leader for UVA Wise is former Sullivan Central star Meg Crawford, who is averaging 9.4 points and 7.8 rebounds per game.
Former Daniel Boone star Sydney Pearce is finishing his final year at Carson-Newman. NET high school defensive player of the year 6-3 Pearce managed 29 blocks in her freshman year helping the Eagles win the South Athletic Conference regular season title. She is averaging 3.5 points and 4.6 rebounds as a senior.
Abbey Crawford, another former Sullivan Central star, averages three points per game at Wofford. She scored a 12-point effort against Brevard on Dec. 8.