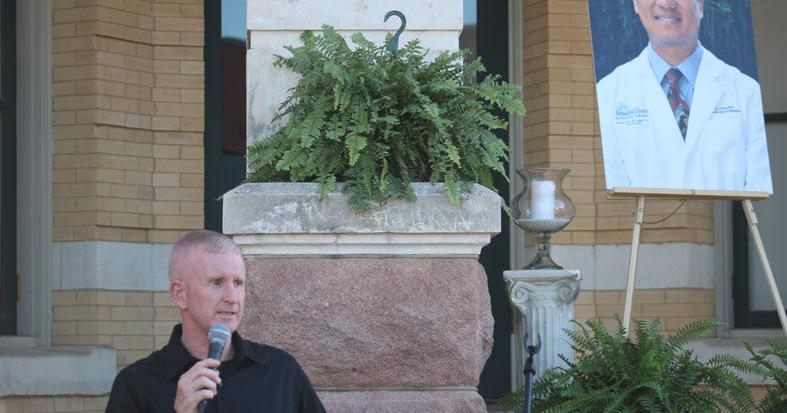 Marshallites gather to honor slain Dr. John Cheng with prayer vigil | New
A native of Marshall and a 1987 graduate of Marshall High School, Dr. John Cheng truly lived the Bible scripture John 15:13, according to his friends.
"A greater love has no man than this, let a man lay down his life for his friends," Cheng's loved ones said on Friday as they gathered to honor his memory at a prayer vigil held at the historic Harrison County Courthouse.
"I'm so proud to call him a classmate," longtime friend and classmate Sam Hammontree said as he reflected on Cheng's heroic actions where he sacrificed his own life to save life. of dozens of elderly parishioners in a mass shooting in California. Sunday May 15.
"I have classmates who have done great things, (but) this is the best. I don't know how you top that – laying down your life for someone else," Hammontree said.
Cheng, the son of the late Marshall OBGYN Dr. Junen Cheng and Ling Cheng, lived in Laguna Niguel, California, and was a beloved family and sports medicine physician.
Cheng died after heroically attacking a gunman and attempting to disarm him in a mass church shooting that occurred during a luncheon hosted by the Taiwanese Irvine Presbyterian Church in Laguna Woods. He was 52 years old.
Analyzing biblical scripture, Hammontree pointed out the irony of John 15:13.
"It comes from the book of John, the 15th chapter," he said, noting that the chapter is John Cheng's namesake. "His last day was the 15th day of the month."
Hammontree said that the verse has the number 13 is also symbolic because the tragedy happened during the 13th hour of the day. Hammontree thanked everyone for attending Friday's event and remembering Cheng and his heroic actions.
"We are here together and to honor John," he said, noting that many people, including Cheng's friends from Baylor University, Marshall High School alumni and Cheng's fraternity brothers , have traveled far and near to honor him.
Opening the occasion with prayer, Hammontree thanked God for Cheng's humble life.
"We pray to live a life like that. We thank you for what he has done for so many others," Hammontree said.
Heidy McWhorter, who attended high school and college with Cheng and now lives in Florida, traveled for the occasion to participate in her hometown tribute to her friend. She brought with her some songs to play specially designed to honor Cheng.
"The words speak perfectly of his life," she said of the first song, written by former Marshallite Kate Garrison.
"For those of you who knew John when we were growing up, he was truly a man who leaned on Christ. He knew him very well and he shared him with all of us, from his love to his knowledge of his relationship with the Lord," McWhorter said. "He went to California to be a light, and he did it."
McWhorter described Cheng as one of his dearest friends on earth. She thanked everyone for coming to pay their respects to Cheng, a remarkable doctor, a kind soul, an acclaimed martial artist and a follower of Christ.
"Thank you all for coming to share some of your time and remembering John," McWhorter said. "He would be delighted to know that you took the time to do so. He loved Marshall. I'm so glad he has this platform so we can remember him.
Jenny Henson, a college friend of Cheng's, described Cheng as a rare and genuine soul, who was both humble and forgiving himself.
"Being friends with John was about learning something new, gaining a bigger perspective and becoming a better person," Hynson said. "The world is learning something you and I have known for many years: John Cheng was a protective soul with an eye for the vulnerable.
"In my imagination, after hearing the story of the events of May 15, I could just imagine his gentle face listening quietly to his mother and other elders…I could almost see him flying on high alert, immediately locating the threat and run into peril," she says. "I imagine the shooter shocked when confronted by our very heroic friend, John Cheng. May John's memory inspire us, his compassion motivate us and his last act and his bravery challenge us.
James Runnels, Cheng's fraternity brother and college friend, noted that their fraternity represents knights and tradition.
"I can't think of anyone who exemplifies a knight better than John," Runnels said. "When you think of a knight, you think of bravery, you think of the valiant, you think of loyalty, you think of someone who would lay down their life for the kingdom of Christ. Well, that's what John did.
Runnels said God knows he raised John to save the lives of the church luncheon attendees that day.
"There's no doubt that when word got out that John charged the guy and was able to subdue him in time for the others to get there, and gave his life doing it, no one who knew John was surprised. by that because that's just who he was," Runnels said. "He was brave and loyal and valiant and you wanted to be like John – never met a stranger, he was always friendly, but most of all, he was a Christian."