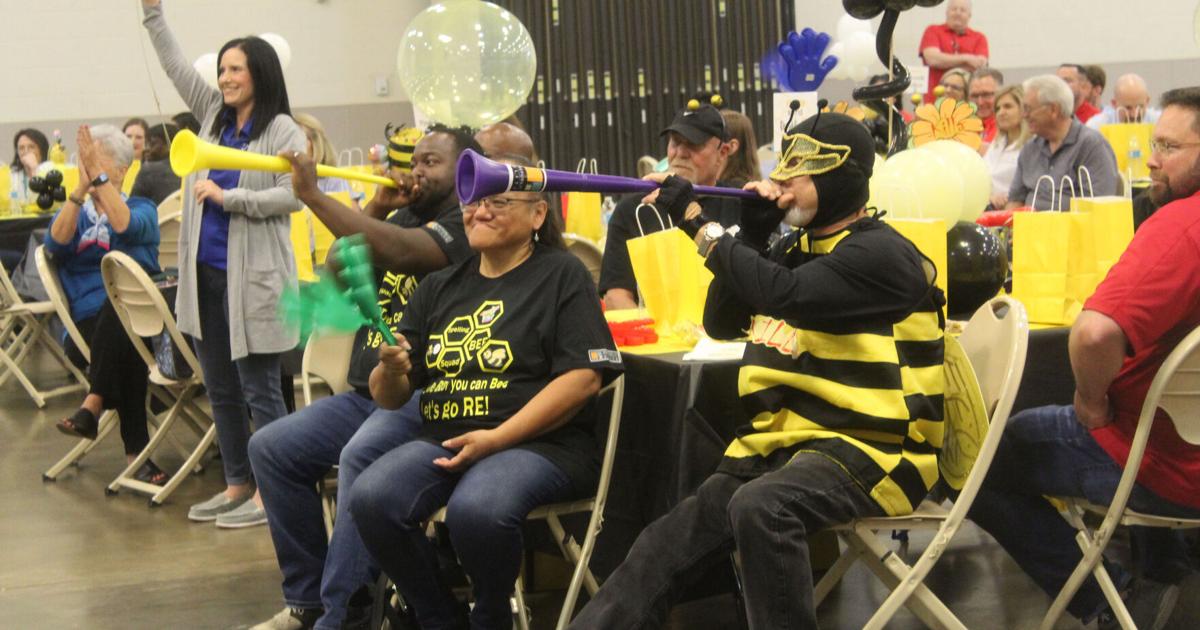 Marshall-Harrison County Annual Corporate Spelling Bee Ends in Unprecedented Tie | New
For the first time in the history of the Marshall-Harrison County Literacy Council's annual Corporate Spelling Bee fundraiser, the contest ended in a tie.
Members of the team representing the Grand Marshall Chamber of Commerce and members of the Marshall ISD student team achieved victory together.
"It's truly unprecedented," council director Karen Bickerdike said at the event, "I haven't been here in the 21 years the event has been held, but I've never seen of equality."
The tie came after 11 rounds back and fourth between the two final teams, who were two of 10 total teams to participate in the event this year.
Other teams included Blue Cross Blue Shield, KMHT Radio, Marshall Lions Club, The Marshall News Messenger, Meadow Brookes Funeral Home, MISD Administration and Republic Elite.
The annual Spirit Stick award was presented this year by the judges of Republic Elite, which judge Chad Sims received the award for loudly clapping and for each team.
Judges for this year's competition included Sims, as well as judge Joe Black and judge Brad Morin, with Molly Hollis and Brad Howlett operating as emcees and James Runnels working as caller for the event.
The annual spelling bee is the major fundraiser each year to benefit the Literacy Council, which strives to provide free adult education, tutoring, GED preparation and other services to the Harrison County community.
Bickerdike said the consultancy is often seen as Marshall's best-kept secret, with a wide range of services available to anyone interested in participating completely free of charge.
The literacy council also offers ESL courses, as well as citizenship test courses for those interested.
"Everything we do at the literacy council is free," Bickerdike said, "which is why all of your support today is so important."
This year's event was particularly significant, Bickerdike added, as it was the first year in the past two years that they were able to hold the event in person, with virtual events being held in 2021 and 2020 due to the COVID-19 pandemic.
Community members can learn more about the Marshall-Harrison County Literacy Council on their website at www.mhcliteracy.org/.