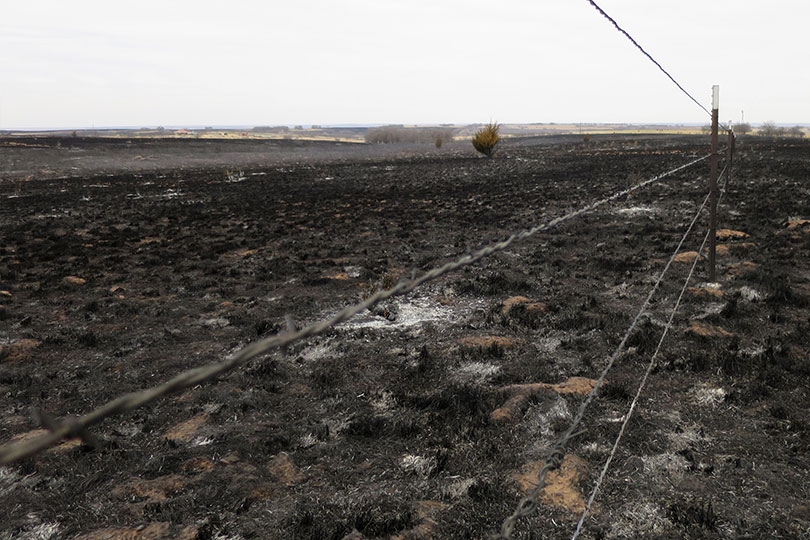 Losses from wildfires exceed $23 million in preliminary estimates
Preliminary estimates from the Texas A&M AgriLife Extension Service show wildfires that tore through the Eastland complex and parts of the Panhandle and Coryell county areas – a total of 433,000 acres – resulted in agricultural losses of 23 .1 million.
Losses include over 400 livestock deaths, loss of grazing values ​​and fencing repair costs.
Preliminary estimates were calculated starting with the fires in early March and continuing through the end of April. AgriLife Extension economists noted that preliminary loss estimates could increase due to ongoing fire threats.
"Drought conditions only heighten the potential for further economic losses in the future given the outlook for hay availability and associated feed costs," said Dr. David Anderson, Livestock Economist at 'AgriLife Extension.
During a seven-day period in late March, state, federal and local fire resources responded to 192 wildfires that burned 173,559 acres. More than 300 firefighters from the Texas A&M Forest Service and more than 200 firefighters from the Texas Intrastate Fire Mutual Aid System, along with firefighting personnel from 28 states, have been positioned statewide to respond.
Texas Farm Bureau West Texas Wildfire Relief Fund
The Texas Farm Bureau (TFB) established the West Texas Wildfire Relief Fund in March to help farmers and ranchers with unreimbursed farm losses.
Nominations can be submitted through May 31 at texasfarmbureau.org/wildfire-relief-fund.
TFB is still accepting donations to the relief fund.
Credit card donations can be made through PayPal on the website.
Checks can be made payable to the Texas Farm Bureau Agriculture Research and Education Foundation and mailed to: West Texas Wildfire Relief Fund, PO Box 2689, Waco, Texas 76702-2689. Include "Attention: Chris Daughtery" on donation envelopes.
Charitable donations are tax deductible.
Other Disaster Assistance
The United States Department of Agriculture's Agricultural Services Agency (UDSA) has approved low-interest physical loss loans to help producers repair or replace eligible damaged or destroyed physical assets. . To confirm your eligibility and access application information, contact your local USDA service center.
The USDA's Natural Resources Conservation Service in Texas is offering financial assistance to farmers and ranchers who have been impacted by the recent wildfires, including animal mortality assistance, deferred grazing and more. Currently, eligible counties in Texas include Blanco, Brooks, Brown, Coleman, Comanche, Eastland, Erath, Grayson, Hood, Mason, Potter, Randall, Runnels, Starr, and Williamson. like more wildlife disaster proclamations occur, those counties will also be eligible. Applications are due July 5.
The U.S. Small Business Administration has approved Governor Greg Abbott's request for a disaster declaration in communities affected by the Eastland Complex Fire, unlocking access to several loan programs. Applicants can apply for loans, receive additional information on disaster relief and download apps online. Applicants may also call the SBA Customer Service Center at 800-659-2955 or email disastercustomerservice@sba.gov for more information about SBA disaster assistance.
Texans affected by the wildfires are encouraged to submit property damage to pity.tdem.texas.gov to help officials identify resource needs and determine the state's eligibility for additional disaster assistance.