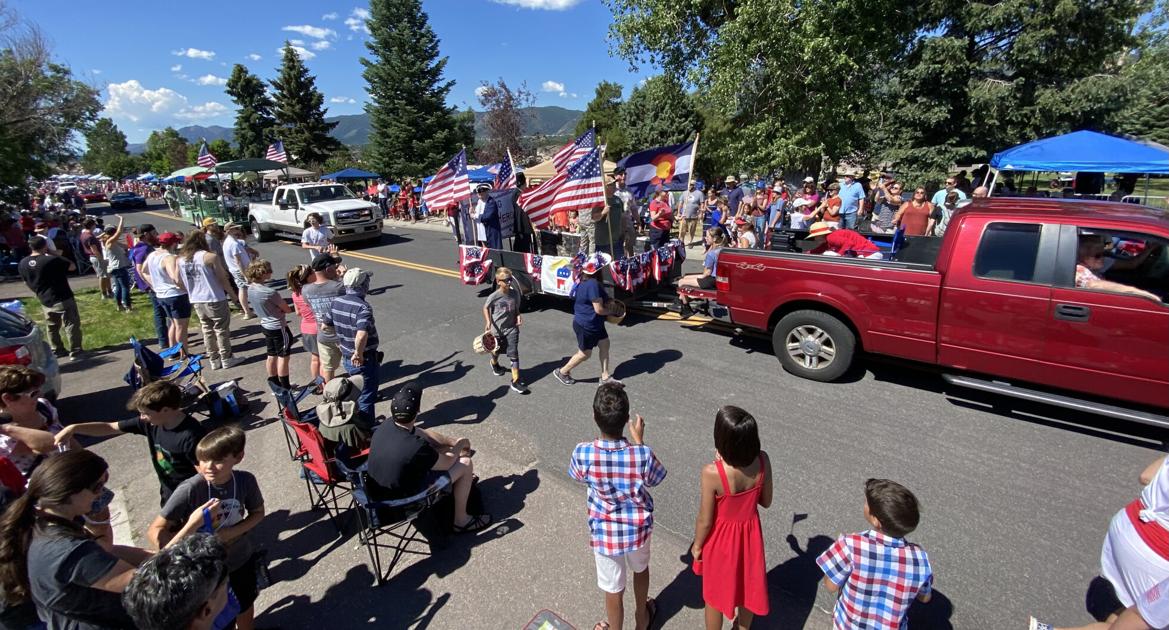 Hometown Holiday Celebration: Customers and Vendors Revel in the Return of Monument's Fourth of July Weekend Events | The gallery
[ad_1]
MONUMENT • Judging by the turnout at the 4th of July parade in downtown Monument on Saturday, you'd think no one has ever heard the phrase "social distancing".
Patrons and vendors of the 4th of July celebration in Monument gathered in droves to take part in the annual festivities once again, including a pancake breakfast, parade, street festival, beer garden and groups live. Last year's festivities were canceled due to COVID-19 pandemic prevention measures.
Visitors looking to celebrate Independence Day and the opportunity to gather in large crowds again lined the parade route – in places three, four and five rows deep, seated and under makeshift canopies.
Among the street festival vendors was Jackson Creek Senior Living, who was no stranger to pandemic prevention restrictions. Those who worked at the facility's booth were delighted to be able to come out and meet people face to face again.
"We were so successful during COVID for the most part, I was saying [a co-worker], to see everyone gathered today and out, you just can't ask for more, "said Laura Hale, Sales Associate.
For other suppliers, like Passante's Home Food Services, which offers free home delivery of all-natural meats, wild seafood and other 100% organic food products, street festivals and markets are essential to the marketing their businesses. Clay White, regional director of marketing for Passante's, said he was relieved to return to in-person marketing with the holiday celebration and fantastic attendance.
"It's the lifeblood of our business to get to where people are going," White said. "We deal directly with the ranchers and then we bring the food to the people. If they can't find us, they can't get the food from the ranchers and it affects a long chain of vendors.
White said during tighter pandemic restrictions, they joined in that few businesses were allowed to stay open and set up booths outside those gates. That, and referrals from its existing customer base, friends and family, are what helped the company survive.
"If we hadn't had that, we probably would have gone bankrupt," he said.
Many nonprofits participating in the street festival were thrilled to switch to the face-to-face interaction of team building and fundraising via online and virtual platforms, and being able to talk to people without screen or mask.
"It's awesome," said Bailey Gargasz, a Monumental Impact intern and a rising high school student from Lewis-Palmer High School. "It's great to be able to see people smiling and happy and back together in a community setting.
Gargasz said he thought it was a great loss for the city last year not to be able to put on a parade and celebration for July 4, something he always looked forward to, and was happy to be part of this year. The exhibition is important in generating funds for nonprofits, he said.
"We get funds through our camps and the kits we build, but as a nonprofit, it's hard to get those funds – which are so important to operate," Gargasz said.
The Monumental Impact booth featured drone kits, water conservation kits and soldering kits – all ideas coming from the young trainees of Monumental Impact. The non-profit organization has helped young people foster and launch these projects, Gargasz said.
Jeanette Brenton, Founder of Monumental Impact, said the interns' in-person experiences were also invaluable and gave them such marketing flexibility.
"It also added to the team's collaborative effort that you just can't get by meeting only virtually," Gargasz said.
The City of Monument also had a booth in the street festival where City Manager Mike Foreman, other city employees, Mayor Don Wilson and members of the board of directors were in attendance throughout the day. The main purpose of the city's voting booth was to help educate residents and voters about self-government, which the council is considering as a voting measure to be presented to voters in November.
[ad_2]