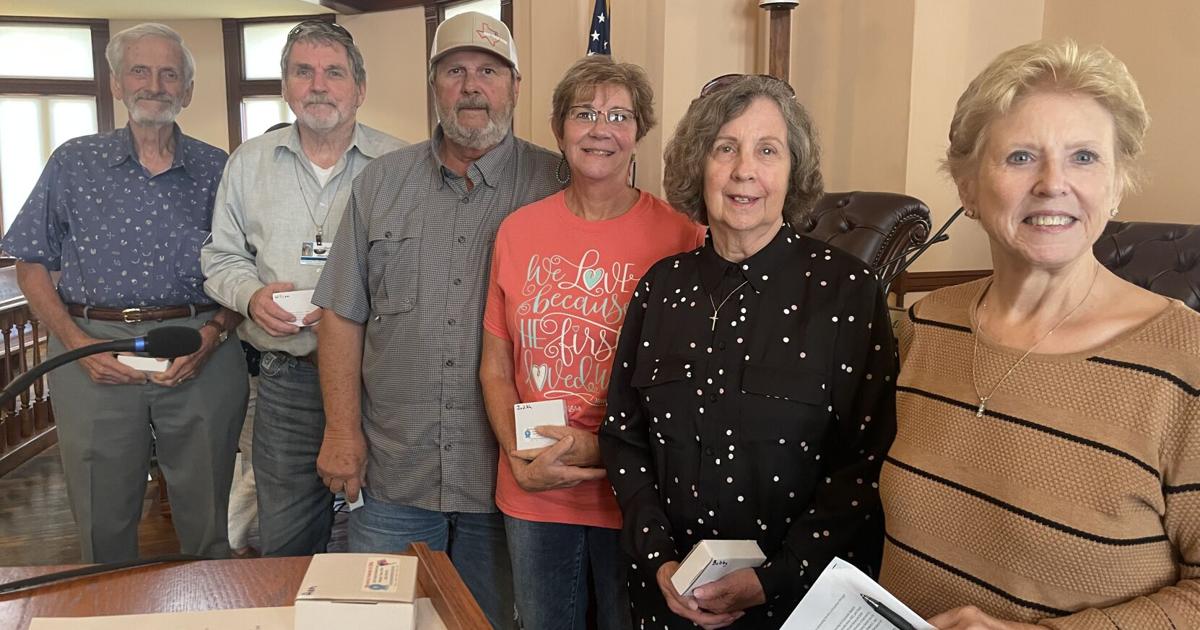 Harrison County Museum Welcomes New Members and Officers at Annual Meeting of Members | New
The Harrison County Historical Museum recognized outgoing board members as they welcomed new ones Tuesday at the museum's annual meeting of members.
"The mission of the Harrison County Historical Museum is to collect, preserve, and interpret for the public benefit, education, and enjoyment the historical heritage of Harrison County and matters related to Texas history", recalled director Becky Palmer during the presentation of her report. "It is Harrison County Historical Museum's vision to be one of the best small history museums in Texas County."
The outgoing board members who were recognized on Tuesday were Ann Brannon, Jay Ebarb, Judith Ebarb, Bobbie Halliday, William Hatfield and Ron McGregor.
The new members recommended by the nominating committee are Phillip Mauldin, Stacia Runnels, Elyse Nesbitt McCoskey, Debra Hatfield, Bill Elliot, Glenda Ponder and Charles Cornish. Additionally, Harold Raines and Wendy Newman were elected to a second three-year term.
New President/Leaders
Local attorney Michael Smith was appointed to fill Ellen Anderson's vacancy.
Smith, who is in his first term, was also recommended by the nominating committee to become the new chairman of the museum's board of trustees. Besides his career as a lawyer, Smith's other passion is history.
Last December, he earned his master's degree in World War II studies through a program offered jointly by Arizona State University and the National WWII Museum in New Orleans. He previously earned a bachelor's degree in history from East Texas State University, a master's degree in public affairs from the LBJ School of Public Affairs at the University of Texas at Austin, and a law degree from Baylor University.
According to his biography, he is the author of two books on World War II subjects, Essex Class Carriers in action and US Light Carriers in action, is the only named inventor on two US patents, and maintains websites on the practice in local federal courts as well as intellectual property cases in all Texas federal courts.
Smith is a partner at the Dallas-based law firm Scheef & Stone, LLP. He manages the firm's Marshall office in the historic Hub Shoe Store building in downtown Marshall and assists clients with complex commercial litigation in the Texas federal courts.
Smith, who previously served as chairman of the museum's board of trustees in 1994-95, is thrilled to have the opportunity to serve again.
"I was president in 94-95 when we started changing the museum and the building from what Mrs (Inez) Hughes had from 1962 until her death in the mid-1990s to what it is now – from professional, curated exhibits that tell stories, instead of just being the breadbasket of the county," Smith said.
During his tenure, they added the first Harrison County Highlights exhibits and gift shop. It's one of his favorite memories as he was able to visit Lady Bird Johnson, a Harrison County native and former first lady, as she posed in front of a display case of her inaugural dress.
The museum then began the long process of renovating the building, which Smith was also happy to be part of.
"Others have taken the long and difficult road to bring the building and the museum back with it," Smith said. "But we were there at the start. I remember using a hammer to knock down a temporary wall to help create the gift shop for Wonderland of Lights in 1994. Between board members, county jail inmates part of a work team and some key donors, we were able to open the building at night for Wonderland. That's when we really gave the building back to the community and started building the support to save it.
"So I'm very excited to be back on the board and helping out with the spectacular, professionally staffed, three-site complex that it has become," Smith said. "At the time, it would have been beyond our wildest dreams."
In addition to Smith, the other officers approved for the 2022-2023 year are Dr. Robert Graves as First Vice President, Glenda Ponder as Second Vice President, Wendy Newman as Secretary and Amy Waters as as treasurer.
New members
Phillip Mauldin, a longtime Hallsville resident, is Precinct 3 County Commissioner. He began his career 25 years ago with the Longview Fire Department, where most of those years were spent at office of the fire marshal to do public education and investigation of fires and arson. He spent 12 years as Pct. 3 County Constable for Harrison County. He is a member of the Mobberly Baptist Church, board member of the Longview Metropolitan Palling Organization, associate member of the Harrison County Republican Women's Association, past president of the East Texas Building Officials Association, past president of the Hallsville Baseball Association and former vice president of the East Texas Arson Investigators Association.
Charles Cornish III is a former board member returning after a year. Cornish is the Director of Alumni Relations at Wiley College. According to his biography, his grassroots work fostered a growing trend of philanthropy in his alma mater, and his fundraising efforts helped the college earn over $10 million. A resident of Marshall, he held several local positions, including board member of the Marshall Symphony, the Marshall Regional Arts Council, the Boys and Girls Club of the Piney Woods, the Harrison County Historical Museum, the Harrison Public Library, Marshall and previously served as president of the Rotary Club.
Glenda Ponder is a former board member returning after a year and previously served as an officer. She represents the east side of the county, Waskom. She has served on numerous committees and also developed the rotating Waskom/Jonesville exhibit for the museum.
Stacia Runnels has served as the Executive Director of the Grand Marshall Chamber of Commerce since 2019. She joined the Marshall Chamber in 2016, serving as Marketing and Membership Coordinator. Runnels graduated from Baylor University with a Bachelor of Science in Education, majoring in Early Childhood Education and a minor in Psychology. She is director of children's ministry at Crossroads Baptist Church.
Elyse Nesbitt McCoskey represents the west side of the county. A 1972 graduate of Marshall High School, she returned to Texas full-time in March 2020 after spending five years in China, nine years in Tennessee and five years in Bahrain. McCoskey holds a Bachelor of Science degree in computer science and owned an IT business for nine years before living in China. She has owned a jewelry business for 16 years.
Debra Hatfield has served on several boards and committees, including serving as Republican Party Chairwoman for Harrison County, where she was elected in 2017. She is currently employed by the Bockman Insurance Agency. Originally from Harrison County, she is married to William Hatfield, who is currently Pct. 1 departmental commissioner.
Bill Elliot is the local commander of the Sons of the Confederacy Marshall Chapter. According to his biography, he actively seeks out and marks the gravesites of Confederate soldiers and is well versed in the county's WW Heartsill history. Elliot is a retired federal court staffer, retired constable, and retired firefighter. He is past president of the North Texas Justices of the Peace and Constables Association and past president of the East Texas Justices of the Peace and Constable Association.Membership Report
In addition to the appointment of new members and officers, board members listened to the membership report, presented by Judith Ebarb. Ebarb noted that the membership campaign began on April 30.
"We sent out 220 membership letters. We have 47 life members," Ebarb said. "From this April 30 to August 23, we received $3,672.44 in renewals."
She said the total membership received for the year 2021-2022 is $12,617.44.
Program report
Museum Director Becky Palmer presented the museum's program year annual report for the fiscal year September 1, 2021 to August 31, 2022.
Reviewing some of the accomplishments of this fiscal year, Palmer noted that approximately 1,000 visitors signed the museum's guest book at the 1901 Harrison County Courthouse, Memorial City Hall Performance Center, Historical Research Center Inez Hatley Hughes and museum events this year.
"Visitors came from all over the United States and from foreign countries," Palmer said.
Regarding children's programs, she noted that the museum offers free tours and activities for public and private school classes. Age-appropriate activities are provided for visiting schools in accordance with the state-defined Texas Essential Knowledge and Skills (TEKS) curriculum.
The museum also continues to host its annual "History Rocks Day Camp", aimed at children ages 6-11. During camp, up to 45 attendees visit all of the downtown museums, including the T&P Historic Depot, the Historic Courthouse Exhibits, the Starr Faily Home Historic Site, the Michelson Museum of Art, and the Memorial City Hall Performance Center exhibits.
As for adult education programs, Palmer noted that this year marks the sixth year of the museum's popular "Harrison County Journey Stories" learning series. The first event titled "From Piney Woods to the Pentagon" kicked off on September 17, 2021 at the Memorial City Hall Performance Center and drew a crowd of approximately 125 people. The second event, titled "College of Marshall to ETBU", attracted approximately 100 attendees.
This month the museum hosted a book signing for the recently released book, "The Northeast Corner of Harrison County, Texas" written by Board Member Rose Mary Magrill with Board Members John Fortune and Pat Odom. from the administration board. The event attracted 115 participants.
Palmer noted that the Inez Hatley Hughes Historical Research Center, located at 102 E. Crockett St., is open Tuesday through Friday from 10 a.m. to 4 p.m. and is staffed by volunteers. Thanks to an IMLS grant, they were able to hire a digital archivist intern, Jeremy Ledbetter, who works diligently to digitize and preserve more than 57,000 documents related to Starr Plant's abstract records.
Palmer's announced the museum's new website, harrisoncountymuseum.orgis operational and the museum's Facebook page is also very popularfrom 3,121 subscribers on August 16, 2021 to 3,936 subscribers on August 18, 2022.
In addition to the general manager, the museum currently has five part-time paid staff: an administrative assistant, two visitor services clerks, an accounting clerk and a digital archival intern.
Noting the challenges of this exercise, Palmer said the main one was to find ongoing sources of revenue to adequately support the annual operations of the two sites of the museum and the research center.
"When our organization tripled in size in 2019, we knew it would come with associated financial increases," she noted.
The research center is experiencing an explosion of inquiries from across the region and state. They encourage all scholars to support with a one-time donation.
"We have decided to waive admission fees and institute a 'per donation' policy at all sites," Palmer said. "This has been a success for our organization and we will continue to offer donation and research programs for the foreseeable future."