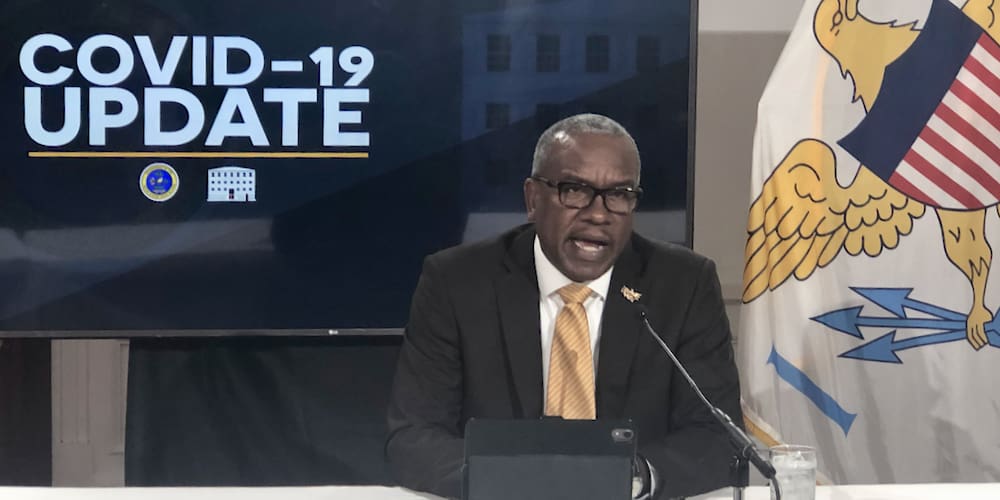 Governor says Limetree's decision to close was no surprise
At 6 a.m. on Monday, Governor Albert Bryan Jr. learned that the Limetree Bay refinery would be closed, affecting up to 800 jobs directly and indirectly. This was not a big surprise, the governor said at a press conference Monday afternoon.
Since May, when the Environmental Protection Agency ordered a 60-day "temporary" shutdown over an oil spill and foul-smelling chemical emissions, Bryan has said the government has been trying to recruit new investors, but to no avail. . The government has also looked for new businesses for the territory, he said.
Bryan confirmed that 271 employees were laid off directly and said 500 to 600 direct jobs and 100 to 200 indirect jobs, such as delivery services, would also be affected, along with several hundred households. He said the government is carefully reading the Limetree agreement.
"At this point, we have no idea when the refinery will restart or if it will restart," Bryan said.
The governor added that the shutdown of the refinery by Limetree will not affect the oil storage terminal, which is a separate entity with around 88 employees.
In announcing the decision to close the facility, Limetree Bay Energy on Monday cited "severe financial constraints".
The refinery was temporarily closed on May 12 by the Environmental Protection Agency after accidental oil releases and community complaints of foul odors.
"Limetree Bay has been working hard to raise capital to help them with their restart efforts. Unfortunately, the company has not been able to secure the necessary financing and will have to downsize the refinery by approximately 271 employees, effective September 19, 2021, "the company statement said.
Bryan said that since the Limetree buyout two years ago, there have been numerous issues redeveloping the refinery for use, especially when COVID shut down the workforce.
When it opened in February, "it was a year behind schedule and 100% over budget," Bryan said.
Congresswoman Stacey Plaskett, the Department of Labor, as well as the rest of the governor's office, have been briefed on Limetree's action. Labor Commissioner Gary Molloy called his rapid response team to prepare for the unemployed. Bryan said DOL received a $ 9 million grant to train 600 people in construction, carpentry, electrical work, administrative positions and various on-the-job training.
Helping Hand is a government career fair to be held Tuesday at the St. Croix Education Complex and Thursday at the Tutu Park Mall in St. Thomas.
"As a former labor commissioner during the closing of the Hovensa refinery, I have witnessed the anxiety and economic crisis experienced by affected families, and I remain hopeful that we can reach a resolution fast problems that hamper the safe. restarting the refinery for their own benefit and for that of the vendors who benefit directly and indirectly from the refinery, "Bryan said in a statement.