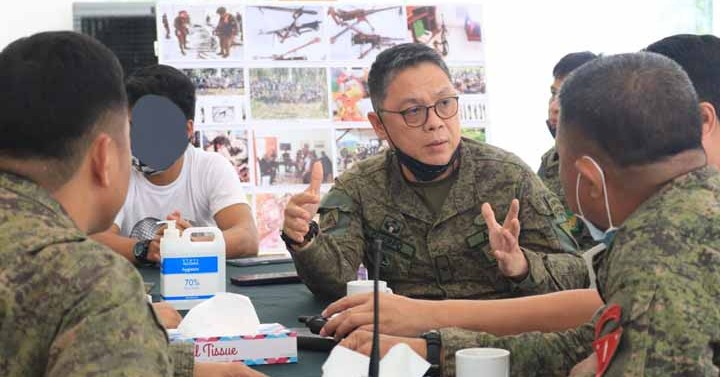 Dawlah Islamiya leader visits Lanao Sur
CITY OF ZAMBOANGA – A deputy leader of the Dawlah Islamiya-Maute Group (DI-MG) has surrendered to military authorities in Lanao del Sur after becoming demoralized by the government's continued efforts to neutralize local terror groups, a senior official said on Wednesday military.
Alinor Itak Ibrahim alias Liya, 26, gave in and handed over an M16 rifle, as he pledged his allegiance to the government on Tuesday at the headquarters of the army's 103rd Infantry Brigade (103rd IBde) in Marawi City.
Brig. General Jose Maria Cuerpo II, the commander of the 103rd IBde, said a military operation that led to the capture of the DI-MG's hideout in the province earlier this month prompted Ibrahim to surrender.
Troops overran the DI-MG hideout on March 1 at Barangay Ilalag, Maguing, Lanao del Sur after hours of intense firefights preceded by an early morning airstrike.
Eight members of the DI-MG were killed, while a cache of assorted high-powered firearms and ammunition was recovered from the captured camp.
Ibrahim said the relentless military operations have demoralized the DI-MG and weakened their will to fight.
"We extend our hands wide open to receive other members of the terrorist organization who wish to surrender and embrace peace," Cuerpo said in a statement.
"I also call on those reluctant members (DI) to surrender or face death, as we will aggressively continue our mission to end terrorism here in our province (of Lanao)," he added.
He said Ibrahim's surrender was successful thanks to the joint efforts of the Piagapo municipal government and the peace partners of the Moro Islamic Liberation Front, in particular the member of the Bangsamoro Transitional Authority, Abdullah Macapaar. .
Ibrahim, from Barangay Taporog, Piagapo, Lanao del Sur, joined the DI-MG in 2017 during the Siege of Marawi.
He was involved in numerous skirmishes against the government, including the 2020 ambush in Poona, Pigapo, Lanao del Norte against government forces, who were then in civilian clothes for an administrative mission.
Cuerpo said Ibrahim's brother and father along with 30 supporters and couriers surrendered to the government last month. (NAP)