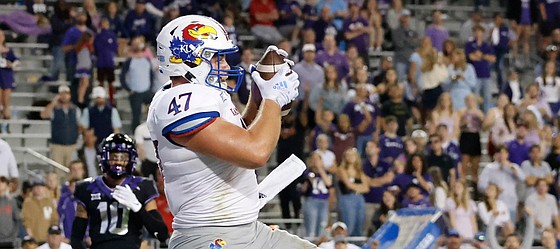 After season-ending heroism, Kansas tight end Jared Casey gets scholarship
Kansas redshirt sophomore tight end Jared Casey said on Saturday he is now a scholarship winner after a successful season that included the game-winning two-point conversion reception in overtime against Texas.
Casey, from Plainville, signed up for Kansas in 2020. He played in nine of the Jayhawks' 12 games last season, mostly on special teams, before taking on a more prominent role on offense in the last three games.
He said that in April, coach Lance Leipold told him he would be getting a scholarship, then immediately called his parents, Jerry and Karen, to let them know.
"It was really surreal," Casey said after the Jayhawks' 10th practice in training camp. "I just went to a meeting and they just told me. I called my parents very quickly. It was kind of like an emotional exchange between us because I'm a hard worker and I've worked for that, so that was really cool."
Casey ran for over 2,000 yards, had 30 touchdowns, and had nine interceptions and 425 tackles at Plainville High, but had no Division I scholarship offers after graduation.
He accepted former coach Les Miles' offer to sign up at Kansas as the preferred backup, which is a designation given to a player who isn't a scholarship holder but doesn't have to try for the team, and did not play his first season. .
His greatest achievement with the team occurred on November 13, when quarterback Jalon Daniels threw the ball to him on the goal line in overtime as the Jayhawks beat the Longhorns 57-56 on the road.
This piece led to a name, likeness and likeness deal with Applebee's, who filmed a commercial with Casey in the following days to capitalize on the moment.
He then had four catches for 34 yards and a touchdown at TCU on November 20 and finished the season with four catches for 67 yards and a touchdown against West Virginia on November 27.
Casey, who had taken out loans to pay for his education, said he had a meeting with Leipold and offensive coordinator Andy Kotelnicki after the end of the season in which they hinted at the possibility of him receiving a bourse. These discussions remained silent until the spring, when he learned that it would happen.
"I still had to show that I'm going to do what I had to do in the spring and play the way I have to play and that will come eventually," Casey said. "It was the right time."
He missed a few practices at the start of training camp after pulling a hamstring on day two, but Kotelnicki said last week that Casey, who went from fullback to tight end, continued to develop throughout training camp.
"He had a great spring and he was great in fall camp," Kotelnicki said. "He's capable of performing anything we ask our tight ends to do…so the bare minimum for my expectation is that he allows us to be multiple in that group of positions as well."
Tight end Mason Fairchild, a senior, said he only found out about Casey's scholarship a few days after meeting Leipold, as the players dispersed after spring training ended.
He said that for Casey to have this opportunity, "it was really awesome".
"He was kind of this symbol last year of our improved performance at the end of last season – especially in our tight end group," Fairchild said. "He can be a guy who can play serious minutes, like with all of us, but he's done a really good job. He's one of the smartest guys in our room. He can be very multifaceted in whatever position. he's playing, and I'm excited for what he can do."